Who is Leonard Peltier?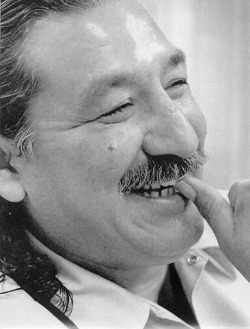 Leonard Peltier
Leonard Peltier, a citizen of the Anishinabe and Lakota Nations, is a father, a grandfather, an artist, a writer, and an Indigenous rights activist. He was born in 1944 on the Anishinabe (Chippewa) Turtle Mountain Reservation in North Dakota. He has spent more than thirty years in prison for a crime he did not commit. Amnesty International considers him a "political prisoner" who should be "immediately and unconditionally released."

His involvement in the American Indian Movement (AIM) involvement would bring him to assist the Oglala Lakota People of the Pine Ridge Indian Reservation in South Dakota in the mid 1970's. On Pine Ridge he participated in the planning of community activities, religious ceremonies, programs for self-sufficiency, and improved living conditions. He also helped to organize security for the traditional people who were being targeted for violence by the pro-assimilation tribal chairman and his vigilantes. It was here that the tragic shoot-out of June 26, 1975 occurred, leading to his wrongful conviction.

Despite the harsh conditions of imprisonment, Leonard Peltier has continued to lead an active life. From behind bars, he has helped to establish scholarships for Native students and special programs for Indigenous youth and has served on the advisory board of the Rosenberg Fund for Children. He has donated to battered women's shelters, organized the annual Christmas drive for the people of Pine Ridge Reservation, and promoted prisoner art programs.

It is vitally important that we actively support those who have been punished and incarcerated for standing up to fight oppression and injustice. Please consider taking a few moments to write to Leonard at the address below. Introduce yourself to him and ask him questions about his life, his struggle, and the work he does for social justice. Let him know that he has not been forgotten. Support like this is incredibly meaningful and uplifting for victims of our flawed justice system.
---
LEONARD PELTIER
#89637-132
USP COLEMAN I
U.S. PENITENTIARY
P.O. BOX 1033
COLEMAN, FL 33521


Leonard Peltier's supporters and legal team have gone through a number of incarnations over his long time in prison. The most current website for the Leonard Peltier Defense/Offense Committee is: http://www.whoisleonardpeltier.info/.
Leonard's poetry and other writings are a part of his book "My Life is My Sun Dance."
Peter Mathiessen's book, "In the Spirit of Crazy Horse" is a well-researched, and admittedly partisan account of the events surrounding Leonard's incarceration.